NYSDOL Annualization of Fringe Supplements: What are the rules?
If you've determined that New York State Department of Labor (NYSDOL) annualization regulations indeed apply to you, you may be asking yourself, "What do I do next?" On the surface it's simple. "Annualization" refers to the time period over which employer contributions are divided by to calculate an hourly credit that applies toward the stated NYS prevailing wage (PW) fringe supplement rate. In effect, annualization means that NYS PW fringe supplements cannot be used to subsidize benefits on private work.

In practice, you'll want to know which benefits count toward the credit, how to treat Davis-Bacon fringe supplements as well as prevailing wage fringe supplements from other states. You need to know that ALL NYS PW fringe supplements are annualized if they are used for benefits. This is different than Davis-Bacon annualization. And don't forget, annualization calculations are done employee by employee, not on a pooled basis. Once you calculate your hourly benefit credit, withhold the credit amount per hour on NYS PW jobs and pay the remainder in the employees weekly pay check.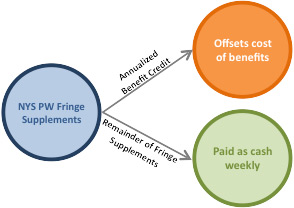 Don't forget to fill out the certified payrolls correctly, front and back, with respect to what you are doing with NYS PW fringe supplements and keep thorough records. You may want to adopt an annualization compliance policy with a clear, written methodology. If you have any question as to whether an employer expense incurred on behalf of an employee qualifies for inclusion into the Annualization calculation, contact your local NYSDOL office or your compliance consultant.
Located in Rochester, NY, for over 25 years GMR has specialized in the development, placement, administration, and support of successful prevailing wage benefit plans meeting the compliance needs of the merit shop construction community. This year our clients will contribute tens of millions of prevailing wage fringe supplements to the Employee Benefit Trust and retirement plans, saving payroll burden on each of those dollars and making bids more competitive. Our current clients do prevailing wage work regulated by the NYSDOL, the USDOL, the MTA, and approximately 10 other states. Let us help you.